Volvo S60: Rally bar R-Design models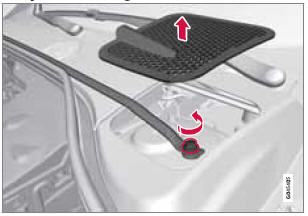 Rally bar and bulkhead hatch
Vehicles with the optional R-Design package are equipped with a rally bar in the engine compartment that must be removed before the battery can be replaced.
1. Remove the hatch in the bulkhead on both sides of the engine compartment (pry them up carefully with a plastic knife or similar object).
2. Remove the screw on each side of the engine compartment holding the rally bar in place.
3. Lift out the rally bar.
> The battery can now be removed (see the instructions in the previous section).
• After a new battery has been installed (see the following section), reinstall the rally bar in the reverse order.

NOTE
When reinstalling the rally bar, tighten the screws to 22 ft lbs (30 Nm).

Changing
WARNING Connect and disconnect the positive and negative cables in the correct sequence. Removal Switch off the ignition, remove the remote key from the ignition slot and wait at least 5 ...

Installation
1. Lower the battery into the battery box. 2. Move the battery inward and to the side until it reaches the rear edge of the box. 3. Tighten the clamp that secures the battery. 4.
Related news