Toyota RAV4 Service Manual: Solar sensor (for automatic air conditioning system)
Components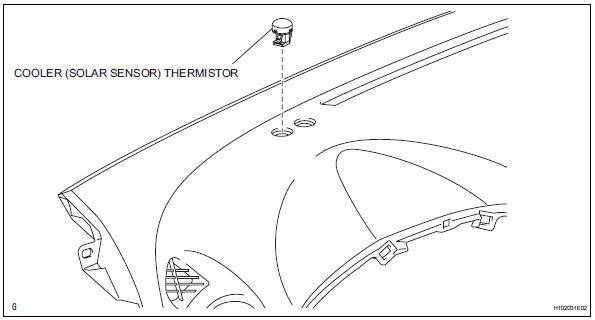 Removal
Disconnect cable from negative battery terminal
Caution:
Wait at least 90 seconds after disconnecting the cable from the negative (-) battery terminal to prevent airbag and seat belt pretensioner activation.
Remove solar sensor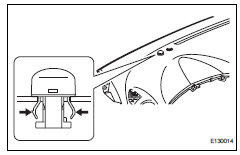 Using a screwdriver, pull out the solar sensor, then disconnect the connector.
Hint:
Tape the screwdriver tip before use.
Inspection
Inspect solar sensor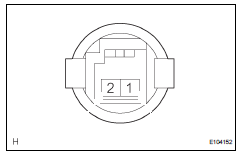 Using an ohmmeter, connect the positive lead to terminal 2 and the negative lead to terminal 1, then measure the resistance between the terminals.
Standard resistance

Notice:
The connection procedure for using a digital tester such as a toyota electrical tester is shown above. When using an analog tester, connect the positive (+) lead to terminal 1 and the negative (-) lead to terminal 2 of the a/c solar sensor.
Hint:
As the inspection light is moved away from the sensor, the voltage increases.
Use an incandescent lamp for inspection. Bring it within 30 cm (11.8 In.) Of the a/c solar sensor.
If the result is not as specified, replace the solar sensor.
Installation
Install solar sensor
Connect the connector, and then push in the solar sensor.
Connect cable to negative battery terminal
Check srs warning light
Check the srs warning light (see page rs-37).

Evaporator temperatur sensor
Removal Remove air conditioning unit Remove the air conditioning radiator (see page ac- 185). Remove evaporator temperature sensor (see page ac-193) Inspection Inspect evapo ...

Heater relay
On-vehicle inspection Inspect relay (marking: htr) Measure the resistance of the htr relay. Standard resistance If the result is not as specified, replace the relay. ...
Other materials:
Diagnosis system
Description The ecm controls the function of cruise control on this vehicle. Data of the cruise control or dtc can be read from the dlc3 of the vehicle. When trouble occurs with cruise control, check that the cruise main indicator does not come on but dtc inspection is performed. Theref ...
Internal control module random access memory (ram) error
Description The ecm continuously monitors its own internal memory status, internal circuits, and output signals transmitted to the throttle actuator. This self-check ensures that the ecm is functioning properly. If any malfunction is detected, the ecm sets the appropriate dtc and illumina ...
Problem symptoms table
Hint: Use the table below to help determine the cause of the problem symptom. The potential causes of the symptoms are listed in order of probability in the "suspected area" column of the table. Check each symptom by checking the suspected areas in the order they are listed.
Related news