Toyota RAV4 Owners Manual: Audio system
Operations such as listening to audio, using the hands-free phone, confirming vehicle information and changing audio system settings are started by using the following buttons.
Audio system operation buttons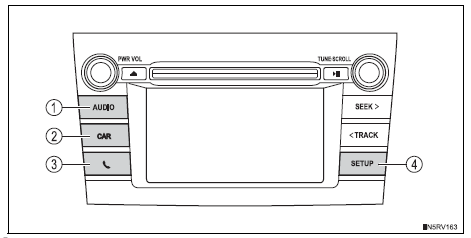 "Audio" button
Display the "select audio source" screen or audio top screen.
"Car" button
Press this button to access the vehicle information system.
Button

Press this button to access the bluetooth® hands-free system.
"Setup" button
Press this button to customize the function settings.
Operating the touch screen
By touching the screen with your finger, you can control the audio system, etc.
Touch
Quickly touch and release once.
Changing and selecting various settings
Drag*
Touch the screen with your finger, and move the screen to the desired position.
Flick*
Touch the screen with your finger and quickly move the screen by flicking your finger.
Moving the list screen (list screen limit)
*: The above operations may not be performed on all screens.
When using the touch screen
If the screen is cold, the display may be dark, or the system may seem to be operating slightly slower than normal.
The screen may seem dark and hard to see when viewed through sunglasses.

Change your angle of viewing, adjust the display on the display settings . Or remove your sunglasses.
Notice
To avoid damaging the touch screen
To prevent damaging the screen, lightly touch the screen buttons with your finger.
Do not use objects other than your finger to touch the screen.
Wipe off fingerprints using a glass cleaning cloth. Do not use chemical cleaners to clean the screen, as they may damage the touch screen.
Other materials:
Parking brake system
Problem symptoms table Hint: Use the table below to help determine the cause of the problem symptom. The potential causes of the symptoms are listed in order of probability in the "suspected area" column of the table.
Related news