Nissan Rogue Service Manual: Body construction Nissan Rogue Service Manual: Body construction
Nissan Rogue Service Manual: Body construction
Body Construction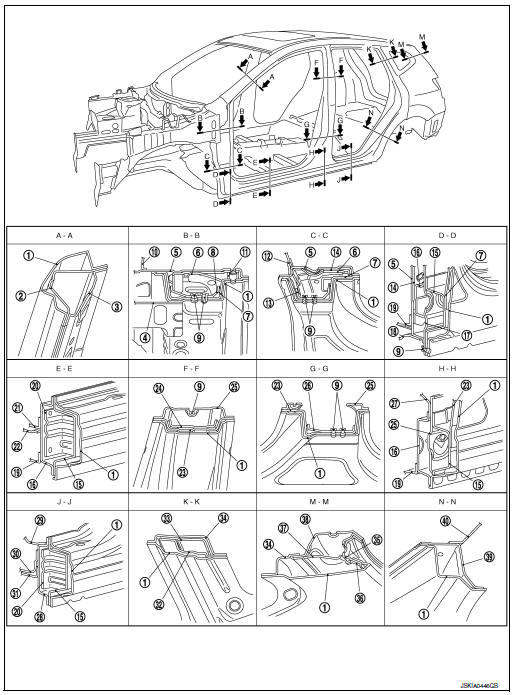 Outer body side
Outer front pillar reinforcement
Upper inner front pillar
Rear hoodledge reinforcement
Side dash
Inner front pillar reinforcement
Lower front pillar hinge brace
Upper hinge plate
Weld nut
Upper dash
Upper steering member bracket
Lower dash
Lower hinge plate
Side dash reinforcement
Outer sill reinforcement
Inner sill
Lower front pillar reinforcement
Front outrigger
Front floor
Outer sill brace
2nd crossmember
2nd crossmember reinforcement
Center pillar hinge brace
Center pillar reinforcement
Inner center pillar
Lower center pillar hinge brace
Seat belt anchor
Inner sill extension
Rear seat crossmember
Rear floor front extension
Rear side member
Inner rear pillar reinforcement
Rear pillar seat belt anchor
Inner rear pillar
Back pillar main
Back door stay reinforcement
Upper back pillar reinforcement
Rear roof rail brace
Outer rear wheelhouse
Inner rear wheelhouse
Rear Fender Hemming Process
A wheel arch is to be installed and hemmed over the left and right outer wheel houses.
In order to hem the wheel arch, it is necessary to repair any damaged or defaced parts around outer wheel house.
CAUTION: Ensure that the area that is to be glued around the outer wheelhouse is undamaged or defaced.
PROCEDURE OF THE HEMMING PROCESS
Peel off old bonding material on the surface of the outer wheelhouse and clean thoroughly.
Peel off a primer coat in the specified area where new adhesive is to be applied on rear fender (the replacing part).
Apply new adhesive to both specified areas of the outer wheelhouse and rear fender.
<Adhesive> 3M™ Automix™ Panel Bonding Adhesive 08115 or equivalent
Attach rear fender to the body of the car, and weld the required part except the hemming part.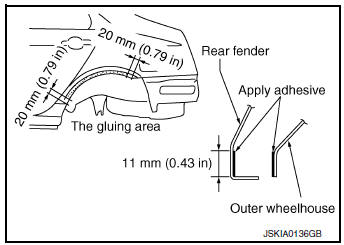 Bend the welded part starting from the center of the wheel arch gradually with a hammer and a dolly. (Also hem the end of the flange.)
Hemming with a hammer is conducted to an approximate angle of 80 degrees.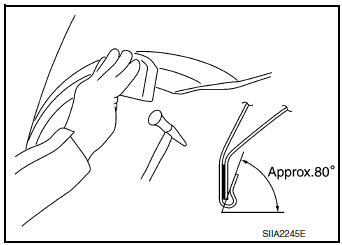 Starting from the center, hem the wheel arch gradually, using slight back and forth motion with a hemming tool.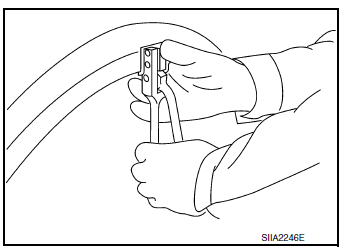 Seal up the area around the hemmed end of the flange.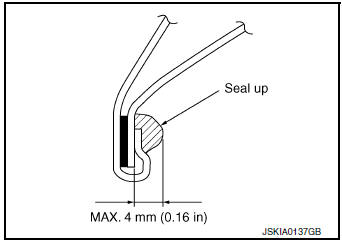 Corrosion protection
Description To provide improved corrosion prevention, the following anti-corrosive measures have been implemented in NISSAN production plants. When repairing or replacing body panels, it is nece ...

Replacement operations
Description This section is prepared for technicians who have attained a high level of skill and experience in repairing collision-damaged vehicles and also use modern service tools and equip ...
Other materials:
Fusible link inspection
How To Check A melted fusible link can be detected either by visual inspection or by feeling with finger tip. If its condition is questionable, use circuit tester or test lamp. Fusible link With stop/start system Without stop/start system* *: Not applicable CAUTION: If ...
VIN registration
Description VIN Registration is an operation to registering VIN in ECM. It must be performed each time ECM is replaced. NOTE: Accurate VIN which is registered in ECM may be required for Inspection & Maintenance (I/M). Work Procedure 1.CHECK VIN Check the VIN of the vehicle and note it.
Related news