Mazda 3 Owners Manual: Parking Brake
CAUTION Driving with the parking brake on will cause excessive wear of the brake parts.
NOTE For parking in snow, refer to Winter Driving regarding parking brake use.
Setting the parking brake
Depress the brake pedal and then firmly pull the parking brake lever fully upwards with sufficient force to hold the vehicle in a stationary position.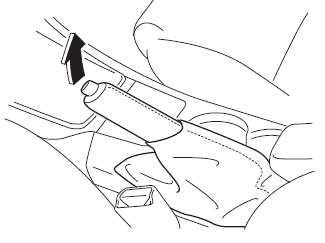 Releasing the parking brake
Depress the brake pedal and pull the parking brake lever upwards, then press the release button. While holding the button, lower the parking brake lever all the way down to the released position.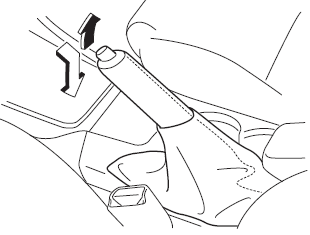 Foot Brake
This vehicle has power-assisted brakes that adjust automatically through normal use. Should power-assist fail, you can stop by applying greater force than normal to the brake pedal. But the dis ...

Warning Light
The warning light turns on when the system has a malfunction. Refer to Warning Lights on . Brake Pad Wear Indicator When the disc brake pads become worn, the built-in wear indicators contact th ...
Other materials:
Glass Antenna
Purpose, Function 4SD The AM/FM radio waves and RDS-TMC (Radio Data System-Traffic Message Channel) radio waves are converted to an electrical signal and the signal is sent to the audio unit. 5HB (With audio unit (with display)) The RDS-TCM (Radio Data System-Traffic Mes ...
Variable Valve Timing Actuator Inspection [Mzr 2.0, Mzr 2.5]
CAUTION: Variable valve timing actuator can not be disassembled because it is a precision unit. 1. Remove the battery cover.. 2. Disconnect the negative battery cable.. 3. Remove the plug hole plate.. 4. Disconnect the wiring harness. 5. Remove the ignition coils.. 6.
Related news