Cooling or dehumidifying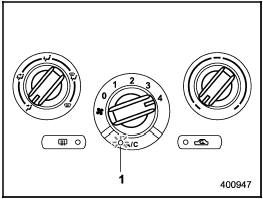 Cooling or dehumidifying
1) ON position
For cooling and dehumidification of the passenger compartment, performing the following steps will allow air to flow through the instrument panel outlets:
1. Set the air inlet selection button to the OFF position.
2. Set the airflow control dial to the "

" position.
3. Set the air conditioner button to the "ON" position.
4. Set the temperature control dial to the blue side.
5. Set the fan speed control dial at the highest speed.
See also:
Power switch and volume control
The dial is used for both power (ON/OFF) and volume control. The radio is turned ON and OFF by pushing the dial, and the volume is controlled by turning the dial. ...
Tire pressures
WARNING Driving at high speeds with excessively low tire pressures can cause the tires to deform severely and to rapidly become hot.
Related news